This article is part of our NBA Draft Kit series.
On Sunday night, I took part in my annual NFBKC RotoWire Online Championship draft. I play in several season-long leagues each year, but this is perennially one of my favorites, and unsurprisingly it's always one of the sharpest draft rooms.
Picking from the No. 3 spot, value was difficult to come by, but by the end of the roughly 90-minute draft I felt like I emerged with a competitive roster.
League info:
12 teams
Roto scoring, eight categories (PTS, REB, AST, STL, BLK, FG%, FT%, 3PM)
16-round draft
12 starters (4 G; 4 F; 2 C; 2 FLEX), four bench slots
Here's how the 12-team, 16-round draft played out:
Right-click and open in new tab to view larger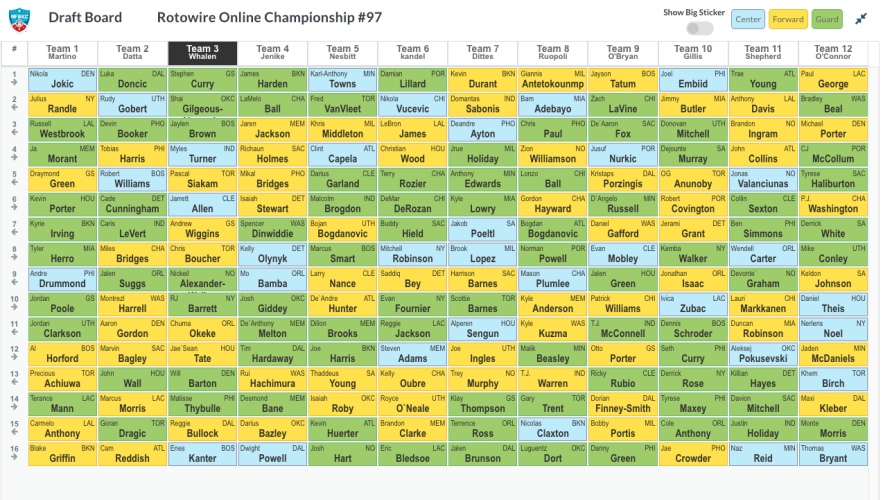 With Nikola Jokic and Luka Doncic off the board, I opted for Stephen Curry over James Harden with my first pick. Choosing between the two superstars is a win-win proposition, but I like Curry's upside just a tiny bit more this season, even if Harden has the better long-term health track record. The advantage Curry provides in threes, especially, was too much to pass up.
Coming back around in Round 2, I went with Shai Gilgeous-Alexander at No. 22 overall. I really agonized over this one, as I also considered Rudy Gobert — he went one pick later – Michael Porter Jr., Brandon Ingram and LeBron James. In retrospect, part of me wishes I would've gone with James, who I nearly landed anyway after he slipped all the way down to 31st overall. Although I'm extremely skeptical of how the Lakers' roster is constructed, James' numbers have never suffered, regardless of which superstar(s) he's playing alongside.
At the end of the day, I can't complain about landing a player with both a well-balanced stat profile and room to continue improving, but the Thunder's direction as a not-even-remotely-close-to-contending team does worry me. While I don't see Gilgeous-Alexander missing as much time as he did in 2020-21, it's also easy to imagine the Thunder being conservative with his workload late in the season when it matters most for fantasy.
After my hopes of James falling into my lap in the third round were dashed, I settled on Jaylen Brown. Starting the draft with three consecutive guards wasn't the plan, but I love Brown's floor and felt like he was the best value. I also considered Devin Booker, which would've also given me a third guard, as well as Myles Turner, who I was able to grab five picks later as the draft snaked back into the fourth round.
At that point in the draft, with most of the elite centers off the board, I felt like I needed to grab a big-time shot-blocker before it was too late. Considering I went guard-heavy at the top, rebounding could be an issue with this roster, but I tried to address that with my next two picks, snagging Pascal Siakam in the fifth and Jarrett Allen in the sixth. Of course, Siakam will miss some time to begin the year, but I love him as a bounce-back candidate this season. The first two weeks of the season might be rough, but I felt that if I waited any longer, Siakam would be off the board.
I chose Allen over Isaiah Stewart in the sixth round, opting for the player with a more-proven track record over the guy who could admittedly have a higher fantasy ceiling. It was a really difficult call, but Allen's high floor and history of staying healthy broke the tie for me, even if I have some concerns about the mess that is the Cavaliers' frontcourt/entire roster. For what it's worth, I did consider grabbing Robert Covington in the sixth, but I felt like it would've been just a tad too early. He ended up going seven picks later.
Coming back around in the seventh, I was really happy to get a boring-but-effective wing in Andrew Wiggins. Wiggins' ceiling is well-known at this point, but I'm banking on him maintaining his career-best efficiency from last season and hopefully returning to being a 1.0-steals-per-game player. Wiggins is also one of the few players in the modern NBA who could easily play 80-plus games, so his durability was a major factor.
In the eighth round, I was ready to go all-in on the preseason hype and grab Tyler Herro, but he came off the board two picks before me. I ended up settling on Chris Boucher, who I also rostered in this league last season. I have a love/hate relationship with Boucher, but after playing it safe with my previous two picks, I felt like it was time to take a risk. None of the players who went immediately after him — Kelly Olynyk, Marcus Smart, Mitchell Robinson, Brook Lopez — were overly appealing to me. Evan Mobley, who went six picks later, was firmly in consideration, however.
With my next two picks, I went with two of my favorite young players in Nickeil Alexander-Walker and RJ Barrett. Both are somewhat risky, but I love Alexander-Walker's upside as a bad team/good stats guy, and I've long been a believer that Barrett will develop into a borderline-All-Star. For as much as I love Barrett, however, I will admit that the Knicks' crowded depth chart worries me. Even if Barrett does take a big step forward as a player, the additions of Kemba Walker and Evan Fournier could end up capping his fantasy ceiling.
With my next two picks, I went with a pair of young forwards in Chuma Okeke and Jae'Sean Tate. I was fully prepared to take Alperen Sengun over Okeke, but he went four picks earlier. Okeke, in particular, has been one of my favorite later-round targets. He has the stat profile to be a classic better in fantasy than real-life player early in his career. Tate far exceeded expectations as a rookie and should remain in a productive situation for the rebuilding Rockets.
Filling out my reserve spots, I didn't take many risks, as most of the high-upside young players were off the board at this point. I opted instead to roll with a reliable-ish veteran in Will Barton – I feel like I've rostered him in every league I've ever played in – and then target specific categories with my final three picks. Matisse Thybulle's contribution is obvious, while Reggie Bullock adds threes and Enes Kanter adds rebounds. No matter where he plays, Kanter always seems to have a three-week stretch when he's starting and putting up nightly double-doubles.
Overall, I'm satisfied with how my roster turned out, especially after I looked back at last year's NFBKC team and was reminded that four of my first seven picks – Ben Simmons, Andre Drummond, Kevin Love and Brandon Clarke – ended up being pretty major busts. With that in mind, I feel I did a better job mitigating risk and building a safer, more complete roster this season.
Looking back at the draft board, I don't have too many regrets, though I'm concerned that I didn't target enough high-upside players in the middle rounds. Maybe Alexander-Walker and Okeke fit that description, but it would've been nice to have at least one of the under-the-radar rookies like Sengun, Scottie Barnes or Trey Murphy.