This article is part of our Team Previews series.
Seattle Seahawks

Russell Wilson's lackluster play down the stretch was a bit overblown, as he finished with a franchise-record 40 touchdowns while producing two 1,000-yard receivers in Seattle for the first time since 1995. A declining defense and a similar group of receivers make new passing records a possibility.
Offseason Moves
Key Acquisitions
The 2017 second-rounder had a career-high 417 receiving yards in 2020.
The 5-9 wideout posted a 34-784-8 line in six games last year.
Helps to appease Russell Wilson as an immediate upgrade at right guard.
Takes prove-it deal after injuries, uneven play held him back in San Fran.
Key Losses
Veteran presence was no longer necessary with Rashaad Penny healthy.
Racked up 941 tackles in 10 seasons with Seattle.
Earns big-money deal after 25 pass breakups the past two seasons.
The run stopper also had 19 sacks since 2018
A Look Under the Hood
Head Coach: Pete Carroll (Year 12)
Offensive Coordinator: Shane Waldron (Year 1) - West Coast Offense
Defensive Coordinator: Ken Norton (Year 4) - 4-3 scheme
2021 Vegas Projected Wins: 10 (T-7th)
2020 Record: 12-4
2020 Points Scored: 459 (8th)
2020 Points Allowed: 371 (15th)
2020 Point Differential: +88 (9th)
2020 Run-Play Rate: 40.4 percent (19th)
2020 Offensive Snaps: 1,022 (T-20th)
2020 PFF O-Line Ranking: No. 14
Projected 2021 Depth Chart
QB: Russell Wilson / Geno Smith
RB: Chris Carson / Rashaad Penny / Travis Homer / DeeJay Dallas / Alex Collins
WR1: DK Metcalf / Freddie Swain
WR2: Tyler Lockett / John Ursua
WR3: D'Wayne Eskridge / Penny Hart
TE: Gerald Everett / Will Dissly / Colby Parkinson
O-Line: LT Duane Brown / LG Damien Lewis / C Ethan Pocic / RG Gabe Jackson / RT Brandon Shell (RotoWire Rank: No. 20)
Kicker: Jason Myers
Top Storylines
Will the Seahawks Let Russ Cook Again?
Over the first eight games of last season, the Seahawks led the league in pass play rate (65 percent), and Russell Wilson recorded 8.6 yards per attempt and 28 touchdowns versus eight interceptions. After Wilson committed seven turnovers between Weeks 7 and 9, however, coach Pete Carroll found an excuse to revert to a more conservative approach.
Through the final eight regular-season contests, Seattle called pass plays 57 percent of the time (22nd), and Wilson registered 6.4 YPA and a 12:5 TD:INT. The second-half stagnation included no 300-yard performances – after five in the first half – but Wilson still finished with a career-high in passing TDs while feeding two 1,000-yard receivers in DK Metcalf and Tyler Lockett.
Wilson nevertheless was disgruntled this offseason, specifically calling out the commitment to the run game and the offensive-line woes. There won't be a trade anytime soon, and it's unclear what scheme Carroll and new offensive coordinator Shane Waldron will concoct to appease the 33-year-old signal-caller.
But the Seahawks' free-agent addition of tight end Gerald Everett and the second-round selection of wide receiver D'Wayne Eskridge are positive signs that the offense should run through Wilson this year. As a result, Wilson, Metcalf and Lockett continue to be coveted fantasy options.
Is There Room for Two in the Backfield?
Chris Carson missed only seven games over the last three seasons, but he dealt with multiple injuries in 2020. The 26-year-old suffered a sprained knee Week 3 that he barely had shaken off when he sustained a mid-foot sprain Week 7. Consequently, Carson's reps were capped for much of the campaign, as he didn't have more than 17 rushes in a game after hitting the 20-carry mark eight times in 2019.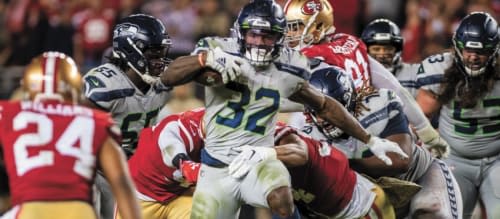 Coach Pete Carroll may opt to limit Carson's mileage again this year, especially if Rashaad Penny comes back at full strength. When Week 1 rolls around, Penny will be roughly 21 months removed from tearing his ACL. While such injuries no longer are as devastating as they once were, there's no guarantee Penny returns to his previous form, and it's still unclear exactly what his ceiling is.
Prior to getting hurt, the 2018 first-round pick had 150 career rushes to his name, averaging an impressive 5.3 yards per carry and scoring six total touchdowns. And in the two games leading up to that injury, he logged 33 touches for 236 yards from scrimmage and three TDs.
All that said, the Seahawks' willingness to let veteran Carlos Hyde go and leave the rest of the backfield unchanged signals the team's confidence in Penny as the backup and possible 1B option to Carson, who is the unequivocal lead back.
Fresh Faces Add Uncertainty on Defense
The Seahawks failed to provide confidence that they're ready to counter the aerial arms race that's occurring in the NFC West. They allowed 285 passing yards per game last year (31st) and responded by not retaining long-time linebacker K.J. Wright, who excels in coverage, and top cornerback Shaquill Griffin.
LB Jordyn Brooks, a 2020 first-round pick, should replace Wright, while D.J. Reed flashed potential to be the No. 1 CB on the depth chart in the final 10 games of 2020, giving up a 75.8 QB rating on passes thrown his way. There's still no clear-cut No. 2 corner, but Ahkello Witherspoon, who wasn't a consistent starter in San Francisco, may be the frontrunner for the gig.
Meanwhile, a dependable pass rush would aid an uncertain secondary. After recording five sacks in eight games with Seattle last season, defensive end Carlos Dunlap will take care of the left side, but he's the only locked-in starter, with Kerry Hyder, L.J. Collier and Benson Mayowa battling for time on the other edge.
Strong safety Jamaal Adams will contribute in the pass rush, too, but fresh faces at every level of the defense leave question marks. There should be high sack and turnover potential – the Seahawks were seventh with 46 sacks in 2020 – but this unit will be prone to surrendering big numbers on the scoreboard.
Barometer
⬆️ Rising: RB Rashaad Penny
Penny will have a chance to return to the form he displayed before he tore his ACL in December 2019. The No. 2 job in the backfield is his to lose, and coach Pete Carroll is fond of running back tandems anyway.
⬇️ Falling: RB DeeJay Dallas
The 2020 fourth-round pick could have taken on a larger workload this season if Chris Carson left in free agency. Now, Dallas will seek the RB3 role behind Carson and Penny, providing minimal upside unless there's an injury.
😴 Sleeper: TE Will Dissly
The Seattle offense figures to be high-scoring, and Dissly has a case to be the No. 1 TE. After all, he has upside, scoring six touchdowns in his first 10 NFL games even as health concerns derailed his initial two seasons.
🌟 Pivotal Player: Russell Wilson
Wilson wasn't himself over the final eight games of last season, ranking 29th with just 6.4 yards per attempt among players with 100-plus passes. His criticism of the organization can't cover up the fact that many of his issues were self-inflicted. Nevertheless, an improved offensive line and an extra pair of pass catchers should help the cause.
Medical Tent
Penny suffered a torn ACL and further ligament damage in his left knee back in 2019, and he played just 38 snaps over three games after returning in Week 15 of the 2020 campaign. Despite being considered healthy in April, the 25-year-old's health again came into question after he missed mandatory minicamp following a cleanup procedure in the same knee. Penny kicked off training camp as a full participant but currently is missing practice with a thigh Issue. The 2018 first-round pick will need every possible rep moving forward to lock down the No. 2 job behind Chris Carson.
RB Travis Homer
Contrary to Penny, Homer is simply looking to hang onto a roster spot rather than climb the depth chart. He's the best pass-blocking RB on the team, which means a great deal in Seattle considering Russell Wilson's high sack counts in recent years, but Homer missed the final seven games of last season due to wrist, thumb and knee injuries. The 22-year-old also missed mandatory minicamp in June with a calf injury and has spent the entirety of camp. He likely can't afford to sit out much longer with DeeJay Dallas and Alex Collins both looking to lock up jobs before Week 1.
Eskridge was limited at mandatory minicamp due to a toe injury, which has kept him out of training-camp practices as he resides on the PUP list. Russell Wilson's target tree endures a steep dropoff after DK Metcalf and Tyler Lockett, but there's still room in the offense for a third pass catcher to make a difference in fantasy. Eskridge was quite productive in his fifth year at Western Michigan, but he's still small (5-9, 190), and leaping Lockett in the slot is a pipe dream. Eskridge's conditioning has ramped up slowly but surely in camp, meaning the development of a defined role has been delayed.
Job Battle
Russell Wilson has targeted tight ends at least 100 times in each of the last two seasons. Jacob Hollister accounted for 99 looks in that span, but he left for Buffalo in free agency while Greg Olsen retired, leaving Gerald Everett, Will Dissly and second-year pro Colby Parkinson to take up the rest of the reps.
Parkinson is a long shot for much work after a rookie season in which he was a healthy scratch more often than not. Working in Dissly's favor is his run-blocking ability that will command a healthy snap count. Last year, he averaged 35 snaps per game while running routes on 67 percent of those snaps, finishing with a 24-251-2 line. Everett presents a worthy challenge to Dissly's hopes of taking the next step, as he has familiarity with new offensive coordinator Shane Waldron, who spent the last four years with the Rams. A 2017 second-round pick, Everett never broke out in L.A., topping out at 417 yards in 2020 and scoring eight touchdowns over four years.
Between the two, there's room for streaming upside and possibly even a breakout candidate. However, it's more likely that they split reps while touchdowns provide weekly upside. After all, Wilson has tossed 30-plus scores in four straight years.